*This post may have affiliate links, which means I may receive commissions if you choose to purchase through links I provide (at no extra cost to you). As an Amazon Associate I earn from qualifying purchases. Please read my disclaimer for additional details..
The glassware revolution dates back to 1674 when an Englishman, George Ravenscroft, improved glassware production by using lead oxide for manufacturing clear lead crystal glassware on a large scale.
Thanks to this man's efforts, the revolution grew, and as we know today, antique glass pieces are available in various forms, like huge punch bowls, vases, cookware and more. Not to mention the wide range of colors, patterns, and styles.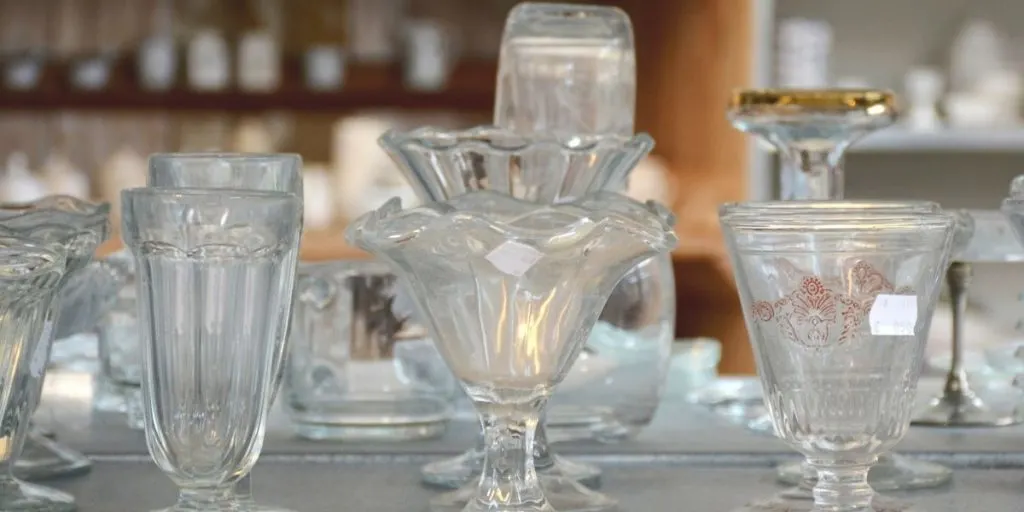 However, whether you are a collector or just a glass enthusiast with an obsession for antique pieces, there are a few things you need to know about antique glassware and what to look out for exactly when searching for a piece to add to your collection.
Here are some of best vintage pieces you should keep an eye out for:
Types of Vintage Glassware
Now that you know how to identify antique glass pieces, which are the most common antique pieces? Read on for more details.
1. Pyrex
Pyrex is perhaps one of the most commonly collected types of vintage glassware. For many generations moms have used Pyrex casserole dishes routinely in the kitchen.
For many families, memories of family dinners, bar-b-ques, and church pot-lucks often bring back memories of the beautiful bowls and dishes made by Pyrex over the years.
Pyrex was launched to the public in 1915. While clear glassware has always been offered by Pyrex, it's the beautiful colors and patterns that are the most collectible.
The Corning Museum of Glass has a whole section dedicated to Pyrex and the different colors and patterns you might find.
Timeless and functional, Pyrex is certainly one of the top vintage glassware items collected.
2. French Tumblers
Commonly known as the Picardie or the Original French Tumbler, these are tumblers exclusively manufactured in France by the Duralex Company, a French glassware manufacturer that has been around for decades. The glass is also named after the Picardy region in France and is popular in most cafes and restaurants all over France.
The fact that they are sturdy, stackable, and chip-resistant is all the more reason they gained much fame. These tumblers are famous in France and throughout the world and were even popular as dinner glasses in the United States during the 20th century.
French tumblers are most suited for sipping sweet tea and can be found in antique shops. However, unlike other antique pieces that went out of production, French tumblers are still in production, and you can purchase a new pack if you want. These vintage pieces are found in thrift shops, vintage stores, Amazon , and Etsy.
3. Milk Bottles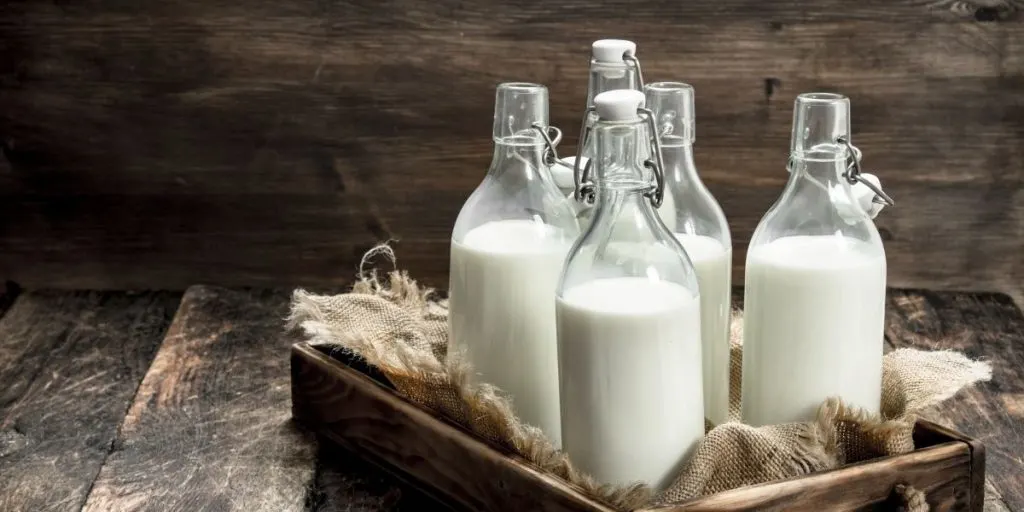 In the past, milk deliveries were made to customers in jugs and containers owned by the customers till the milk bottles sprung into existence and soon took over the market.
While the first milk container patent was issued in 1878, it was until 1884 that Harvey D. Thatcher designed the first re-usable milk bottle, primarily with a cap.
Traditionally, dairies added their designs and labels to their bottles in a slug process during production, often embedding designs that often covered the entire bottle. Unique molds were used to make the bottles distinct.
After 1933, dairies shifted from using embedded glass labels to color labels. These labels are mainly comprised of single colors with the name or symbol of the dairy.
Milk bottles also come in different shapes and sizes. The round bottles with slender necks have been popular since the 1870s, while short and square ones gained fame in the 1940s.
However, they are famous today and suitable for serving milk, milkshakes, smoothies, and flavored drinks. However, be careful not to be duped into accepting counterfeit bottles. New color paints scratch off easily, while antique colors don't.
Antique milk bottles are found in vintage stores, Etsy, and Amazon .
4. Blendo
Made by the West Virginia Glass Company, Blendo glassware is a unique piece of glass distinguished by a neon/pastel solid base that fades up the glass to the gold rim. Out in the market, you might come across imitations with the same base features and color, but they will always lack the signature gold rim of Blendo.
They are best used for serving cocktails and juices and are interestingly cheap and easy to acquire. This makes it easy to find yourself a set quickly.
Blendo glasses are found in thrift shops, vintage shops, and Etsy.
5. Coupe Glasses
Famous for their flashy and speakeasy design, coupe glasses, also known as "champagne coupes" or "champagne saucers," were famous for sipping champagne, especially in France.
Coupe glasses are distinguished by their tall yet ornate stems with a broad base and even a wider but shallow cup top above. In addition, their cup tops are bowl-shaped.
Although they went out of use in the 1960s, coupe glasses are still famous, most iconic, and one of the most recognizable glasses today. They are best used for serving cocktails without ice, Martinez, or used for spins on dessert dishes.
Coupe glasses are found in antique stores, flea markets, and Etsy and Amazon .
6. Mason Jars
Mason jars were named after their inventor, Jon Landis Mason.
Initially, people used jars to preserve food in sealed containers, using sealing waxes to secure a lid on the jar. After the mason jars came in a more straightforward form, the wax seals quickly went out of use and style and were instantly replaced with metal rings that were tightly screwed and fastened down the rim of the jar.
However, although the mason jars are meant for re-use, the steel lids are only meant for single use. Nevertheless, this technique is still used even for food canning today. The most popular brands of Mason jars include Jardin, Atlas, Kerr, and Ball.
Mason jars are found in antique stores and online auction sites like Etsy and Amazon . However, their value significantly depends on their color, age, and general condition.
7. Martini Glasses
As martinis evolved to include a large amount of vodka, there was a need to invent martini glasses to replace the highball and cocktail glasses previously used to serve martinis.
Martini glasses have a high resemblance to cocktail glasses with their cone shape, only that it is more pointed towards the sharper end of the cone, but has a gigantic bowl at the top.
However, it wasn't until the early 20th century that the martini glass took its shape and got independently distinguished from cocktail glasses.
Martini glasses are meant to hold chilled drinks, most preferably without ice. This glass' long thin stem is designed to prevent the holder's hand from warming the drink and further prevent it from being watered down by ice.
This vintage glassware has stood through the tests of time and has proved to be quite functional and sophisticated, and can be an excellent addition to any home bar.
They are found in thrift shops, antique stores, and online auction platforms like Etsy and Amazon .
8. Culver
If you are looking for classic cocktail ware, the Culver brands are just for you. The Culver Glass Company was famous for using 22-karat gold—think opulent and lavish designs to decorate their glassware. The design or methodology they used to do it still remains a secret to this day.
This began in the 1950s through the 1960s, with the manufacturer producing glassware with a wide range of themes including gilded mushrooms, Egyptian, Asian, wildlife, sports, holiday designs, scrolling leaf designs, Antiqua, Seville, Prado, paisley, and Pisa, just to name a few.
Every design theme came with its specifications, from shapes to colors. These antique collectibles are found in vintage stores, flea markets, and online stores like One King's Lane and Etsy.
9. Arcoroc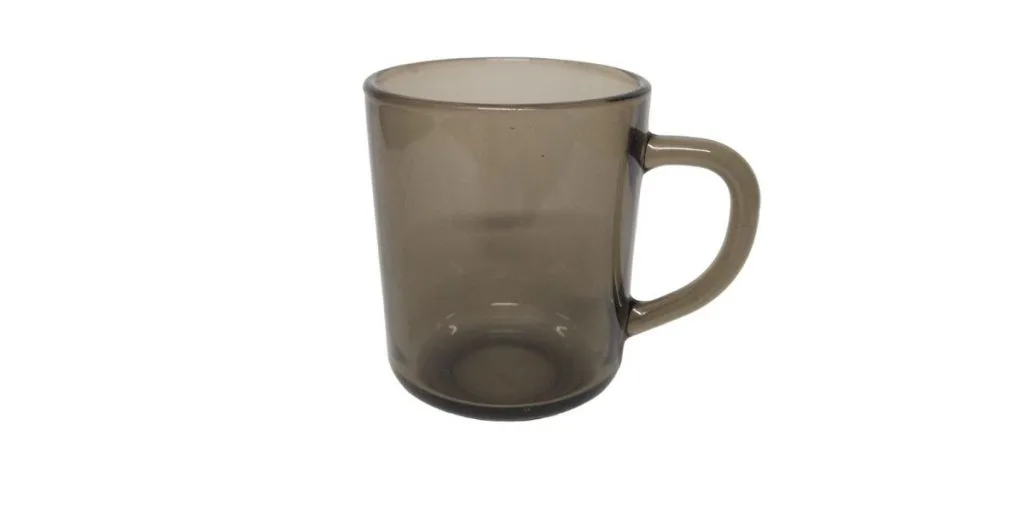 Also known as Rosaline or depression glass, Arcoroc glasses are the dream glassware produced in France through the 1980s. Arcoroc glass features a ring of swirl patterns on a wide range of glassware, including saucers, bowls, flutes, coupes, goblets, and much more.
Arcoroc collections are best fitted for gifting in bridal showers or as hostess gifts. They are found in flea markets, antique stores, and Etsy.
Conclusion
The list above is not an exclusive list of all the vintage glasses on the market. However, regardless of the type, every antique piece of glass is worth adding to your collection.
Resources
https://worstroom.com/types-of-drinking-glasses/
https://www.tasteofhome.com/collection/vintage-glassware/
https://www.hemswell-antiques.com/blog/2019/2/15/a-collector-s-guide-to-antique-drinking-glasses
https://theoldtimey.com/cheers-to-vintage-drinking-glasses/
https://www.avintagesplendor.com/ultimate-guide-vintage-glassware/
https://www.wayfair.com/keyword.php?keyword=vintage+drinking+glasses
https://www.etsy.com/market/vintage_drinking_glasses
https://www.ebay.co.uk/b/Retro-Tumblers-in-Glassware-Drinking-Glasses/20696/bn_7022643201
https://antiques.lovetoknow.com/Identify_Antique_Glassware