*This post may have affiliate links, which means I may receive commissions if you choose to purchase through links I provide (at no extra cost to you). As an Amazon Associate I earn from qualifying purchases. Please read my disclaimer for additional details..
As hobbies go, collecting antique glassware can be very fun. If you love estate sales and flea markets, this is an excellent hobby to take up. The only issue is, how do you figure out what is truly vintage?
Truly vintage glassware has the most value and is fun to hunt for. There are so many types of glassware not to mention shapes and colors to explore. But, when you are getting started, how do you know what is vintage and what isn't?
Here are some tips to help get you started.
4 Tips for Identifying Vintage Glass
Identifying vintage glass can be difficult, especially when you are first getting started.
Antique pieces are often heavier, and with a closer look, you may find clues pointing out that a specific piece is over a century old. But what are some other ways novice glass collectors can evaluate items found at flea markets and thrift stores?
Here are a few pointers:
1. Look for Bubbles and Irregularities
Antique pieces are known to have a couple of imperfections that can be seen on close inspection, such as irregularities in their carving, or tiny irregular bubbles in the bases.
By closely examining the cutting points in every pattern of the glassware, you can also tell if the glass is cut or pressed.
Cut vintage pieces will always have distinct, sharp edges, unlike their molded counterparts that have slightly rounded and smooth edges.
2. Check for Pontil marks
Pontil marks should be your fingertips companion when looking for and identifying antique pieces.
Antique glass often has unique markings, especially at the bottom, that are commonly found in circular shapes.
These marks are often signatures of the manufacturers, the manufacturing dates, or any other piece of important information that will help you know when precisely the glassware was made.
If it gets a bit confusing distinguishing the marks and what they stand for, a glassmaker marks book will come in handy, helping you identify each mark, or you can alternatively use Google.
3. Evaluate Patina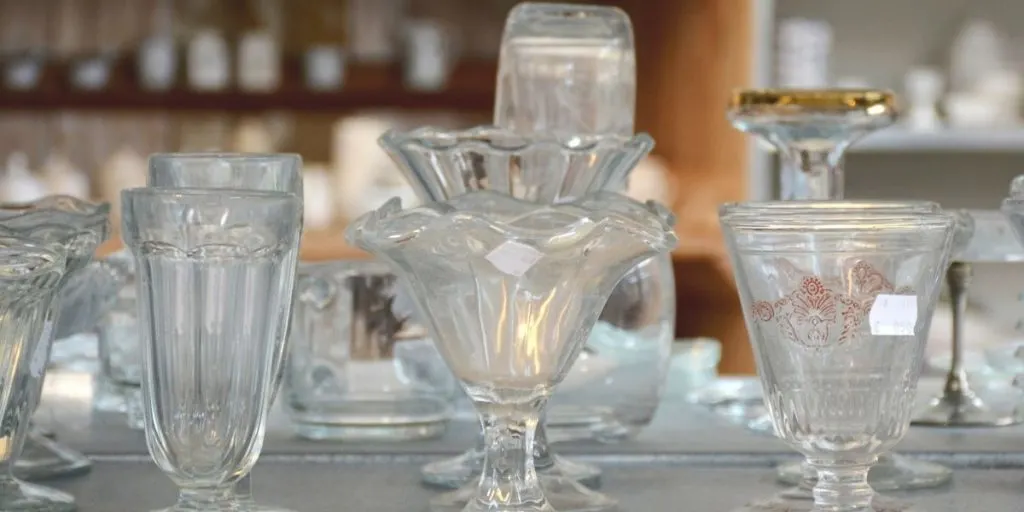 Unlike the contemporary glassware that has smooth surfaces, antique pieces often have tiny flakes, small chips, scratches, and missing gilt areas, all evidence of the ages and time it has been in use.
Although it is possible to replicate an antique look, you can never replicate an antique piece to perfection, and it is the small details that will edge out the counterfeits.
4. Learn to Recognize Vintage Glassware Patterns
By having a closer look at the patterns in every piece of glass, some patterns are often known to be of a certain age or are famous for belonging to a manufacturer from a specific era.
Patterns are therefore pivotal in identifying if the glassware is antique. If you are uncertain, you can recognize the pattern then look it up online or through the glassmaker mark book to relate the marking to a particular manufacturer or era.
Determining the Age of Glassware
There are a couple of pointers to help you figure out a glassware's age. First, the pattern or color scheme of your glassware, for example, can be indicative because certain manufacturers only made their products using specific patterns through a particular era, say through the 1940s. Therefore, if your glass has patterns from this era, it probably is from the said period.
Alternatively, you can also use other styles and design details to tell the glass' age. Geometric designs, for example, are known to have been the order of the market for art deco designs through the 1930s and the 40s.
Luckily, this is a very popular hobby and, as such, it's easy to find guides for the type of glassware you choose to collect.
How Do You Know if Glass Is Valuable?
Antique glassware pieces have a wide range in value from only a few dollars to hundreds. However, before you jump to a conclusion on the prize, what dictates how to price antique glass pieces?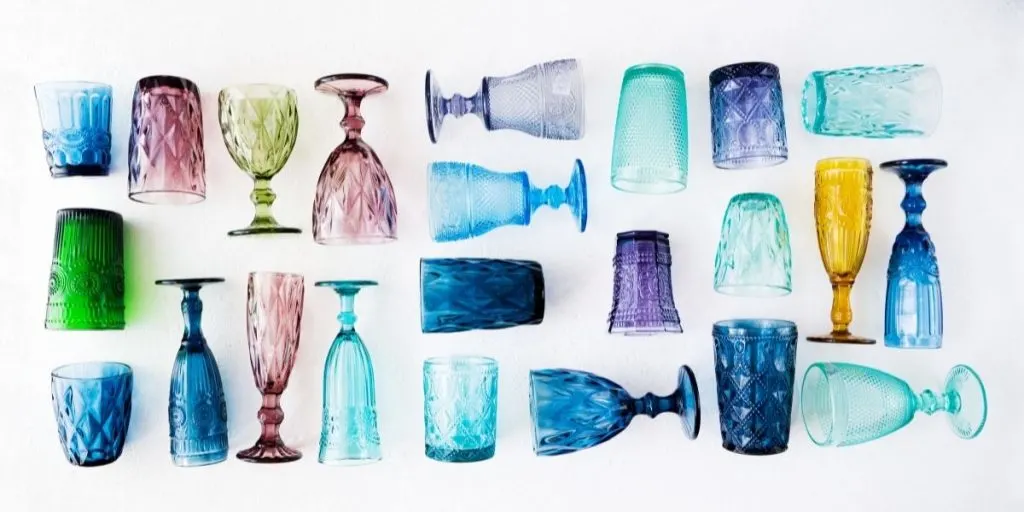 Beauty – Although very subjective, as a rule of thumb, the more beautiful pieces are prized more than, the less attractive ones.
Rarity – The more rare and unique a glass piece is, the more valuable it will be, compared to those available in similar patterns.
Condition – Depending on the physical state of the glass, a piece in perfect condition will be worth more than that with cracks, chips, and dings.
Brand / Mark – Some brands are more popular than others. Vintage glassware produced individually by artists can be the most valuable pieces but are also less commonly collected due to the barrier to entry.
Which Is the Most Sought-After Vintage Glassware?
The rare and unique pieces are primarily the most sought-after. However, how do you know that a piece is rare? Here are a few pointers;
Bi-color – Antique glass pieces with two or more colors are more valued than single shades. Although this might not always be the case, it is worth looking into.
Unusual color – Some color shades are more common than others, such as white, clear, or green. However, if you come across an unusual color, there are higher chances of the piece being extremely rare and valuable.
Signatures – Glass pieces with signatures are scarce, and there are higher chances that the glass artist made the signature, making the relative piece extraordinarily unique and valuable.
Distinctive shape – Sometimes, you come across glass pieces that look like nothing you have ever seen before. They could have strange handle shapes and other odd features to guide you to the conclusion of its scarcity.
Seldom does one get into the hobby of collecting based on the value of the potential collection alone. Instead, most find something they truly have an interest in and focus on the joy of the hunt.
As your collection grows, so should its value but, the true treasure is in the collecting itself.
Resources