*This post may have affiliate links, which means I may receive commissions if you choose to purchase through links I provide (at no extra cost to you). As an Amazon Associate I earn from qualifying purchases. Please read my disclaimer for additional details..
Have you been invited to a tea party this spring or summer? Tea parties are a great way to get together with friends and family.
They're also a fun way to dress up and show off your style! If you want to look your best at a tea party, then you'll need to consider what to wear.
A tea party is a casual event where you'll likely be relaxing, catching up with your loved ones, and enjoying delicious cake and tea.
The key to looking good at a tea party is to choose clothing that fits well and makes you feel confident. Still, many people like to mark the occasion by dressing their very best.
So, here are some ideas to help you plan ahead!
What Is a Tea Party?
A tea party is an informal gathering of people who enjoy the company of each other. It can be a social occasion or a relaxing afternoon.
You might have a few close friends over for a cup of tea and a chat, or it could be a large group of people having a picnic (including lots of yummy cake) in the park.
Either way, a tea party is a chance to relax and spend time with your loved ones. They also typically tend to follow a theme, which is typically floral.
For this reason, many people like to mark the occasion by choosing an outfit that aligns with the theme and weather – which brings us to our next section.
What Should I Wear to a Tea Party?
The best thing about a tea party is that you don't typically need to follow a specific dress code. In fact, most people will probably be dressed casually.
This means that you can wear whatever you like as long as it's appropriate. You can even wear jeans if you prefer! Still, lots of people like to dress for the occasion when they get invited to a tea party.
With that being said, if you're planning on attending a tea party in the near future, here are some ideas for what to wear.
You can use these as inspiration for your own tea party outfit or simply take note of them if you have an upcoming tea party.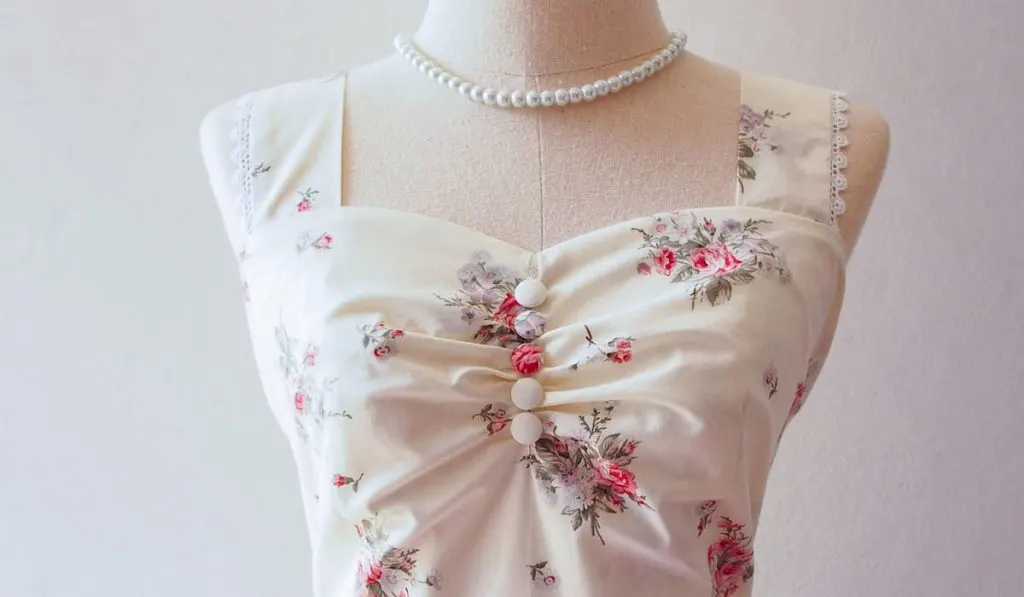 A Printed Top
Printed tops are one of the easiest ways to add interest to your tea party attire. Choose a pattern that matches your personality and has something special about it.
For example, a floral print will make you feel feminine while a geometric design will give you a more modern vibe.
A Flowy Skirt
Skirts are another great option for a tea party because they allow you to move around easily. Look for skirts in bright colors such as red, orange, or yellow. These colors will complement any skin tone and bring out the color in your eyes.
A Tea Dress
A tea dress is a classic choice for a tea party. It's easy to pair with everything from flats to heels and even boots. This dress is perfect for a summer tea party since it allows you to enjoy the outdoors without having to worry about getting too hot.
A Lace Top
Lace tops are always stylish and flattering. They go perfectly with dresses and skirts. Plus, they're easy to layer underneath sweaters and jackets. Lace is also very dainty, which makes them perfect for a spring tea party!
Dainty Accessories
Accessories are always a nice addition to any outfit. Wear jewelry that compliments your outfit and makes you feel confident. Keep accessories simple by choosing just one piece that adds sparkle to your ensemble.
Flowers
Flowers are a wonderful way to add beauty to your tea party outfit. Choose flowers that match your theme and compliment your outfit. You could even incorporate a few fresh flowers into your hair!
Matching Purse
Handbags are essential for any woman who wants to look her best at a tea party. Choose a bag that suits your taste and style. It doesn't matter whether you carry a clutch or a shoulder bag – just make sure that it looks classy and sophisticated.
How to Style Your Hair for a Tea Party
When you're getting ready for a tea party, you'll want to keep things simple. That means you'll need a hairstyle that doesn't require much effort.
For most people, this means opting for a low bun or ponytail. These styles work well because they're easy to maintain. Plus, they're versatile enough to suit almost any occasion.
For those who prefer their hair loose, then you can try adding curls to your locks. Curls look great when worn loose, but they're especially effective when styled into a messy bun.
If you really want to go all out for your tea party, you could even opt to put flowers in your hair, or even add dainty clips.
You may not be able to predict the weather during a tea party, so you should prepare for rain. To avoid ruining your hair, you might want to consider bringing along an umbrella so that you can shelter your hair and outfit in the event that it does rain.
To finish off your look, choose an elegant fragrance. The scent of roses or jasmine works beautifully with tea parties.
For this reason, if you want to make sure that you dress for the occasion perfectly, we recommend that you opt for a scent that has floral notes in it.
Final Thoughts
When it comes to dressing for a tea party, the most important thing is that you feel comfortable and confident in what you're wearing.
Even so, lots of people like to dress for the occasion by opting for a tea dress paired with dainty accessories and a floral fragrance.
We hope that this guide has given you some inspiration on what you should wear to your tea party! Thanks for reading.