*This post may have affiliate links, which means I may receive commissions if you choose to purchase through links I provide (at no extra cost to you). As an Amazon Associate I earn from qualifying purchases. Please read my disclaimer for additional details..
A true wardrobe staple, cotton Jeans are one of the most commonly worn pieces of clothing in the world.
The perfect everyday piece that never goes out style, these jeans are made from cotton, which is a natural fiber that has many benefits to them. It's breathable, durable, easy-care, and hypo-allergenic.
The only downside? Cotton jeans can be a little tricky to stretch, especially when they are brand new.
Luckily enough, there are a variety of ways that you can help to stretch out your cotton jeans to make sure that they fit comfortably while you are wearing them – and this is where we come in to lend a helping hand.
In this article, not only are we going to be sharing with you some of our top tips for making your cotton jeans more wearable, but we are also going to be sharing some helpful advice on why cotton isn't the stretchiest of material to work with.
So, whenever you're ready, let's dive right in!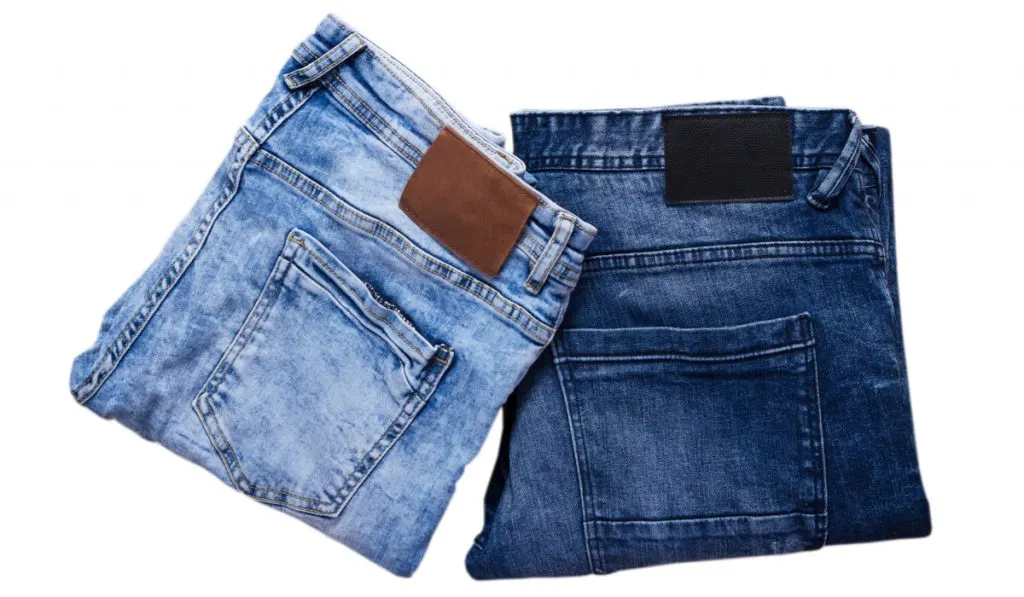 Are Cotton Jeans Stretchy?
Cotton jeans are not the stretchiest of jeans out there. In fact, when you put your cotton jeans on for the first time it's likely that you're going to feel that they are very stiff and difficult to put on.
This is especially true for cotton jeans that are brand new, as many people find them to be extremely difficult to put on and uncomfortable to wear.
This is totally normal and to be expected from cotton jeans, as the cotton blend is specifically designed to create a figure-hugging effect.
However, once you've had your cotton jeans on for a few uses, then you should begin to notice that your cotton jeans start to become much softer and easier to put on.
This softening process usually happens after they have been worn a few times, as the cotton will have had the chance to soften while also molding to your body to allow for a form-fitting effect.
Nevertheless, even though cotton isn't that easy to stretch out, there are a variety of ways that you can make your jeans more comfortable to wear – which brings us to our next section.
How To Stretch Out Your Cotton Jeans: Top Tips For Making Them Softer
Now that you know that cotton jeans aren't the easiest to stretch, we are now going to be sharing with you some ways that you can help to soften them and make them more wearable. Let's check them out below:
Consider Opting For Cotton Jeans That Come With An Elastic Waistband
One of the best things about cotton is how comfortable it feels against your skin, as well as how durable it is.
Still, this material can be difficult to stretch (especially when it comes to denim) so one way that you can help to ensure that your cotton jeans are comfortable to wear is by opting for pairs that come with an elastic waistband.
Try To Get Fitted Before Buying Your Jeans
It's always a good idea to try on your clothes before you buy them, but particularly when it comes to jeans.
You should always consider trying on different sizes to see what fits best, rather than just picking up the first pair that you see. If you do decide to go down a size, remember that you'll have to adjust your measurements accordingly.
Don't Forget To Check The Inside Leg Length
If you've got long legs, then you'll probably need to go up a size when it comes to your jeans. If you're shorter though, then you may find it easier to go down a size.
In either case, it's important to measure both your inner and outer leg lengths to ensure that you end up with the correct sizing. Otherwise, your cotton jeans will be extremely uncomfortable to wear.
Be Careful When Washing Your Cotton Jeans
When it comes to washing your cotton jeans, you shouldn't use any detergent that contains bleach or fabric softener.
These products could cause damage to the fibers, and therefore affect the way that your jeans look and feel. Instead, opt for a gentle wash cycle in cold water.
Use A Steamer To Remove Wrinkles
Cotton is naturally wrinkle-resistant, but if you want to prevent your jeans from becoming wrinkled, then you should invest in a steamer.
Steaming your jeans will help to soften the material and provide them with some more give, while also giving them a smoother finish.
Choose High-Quality Jeans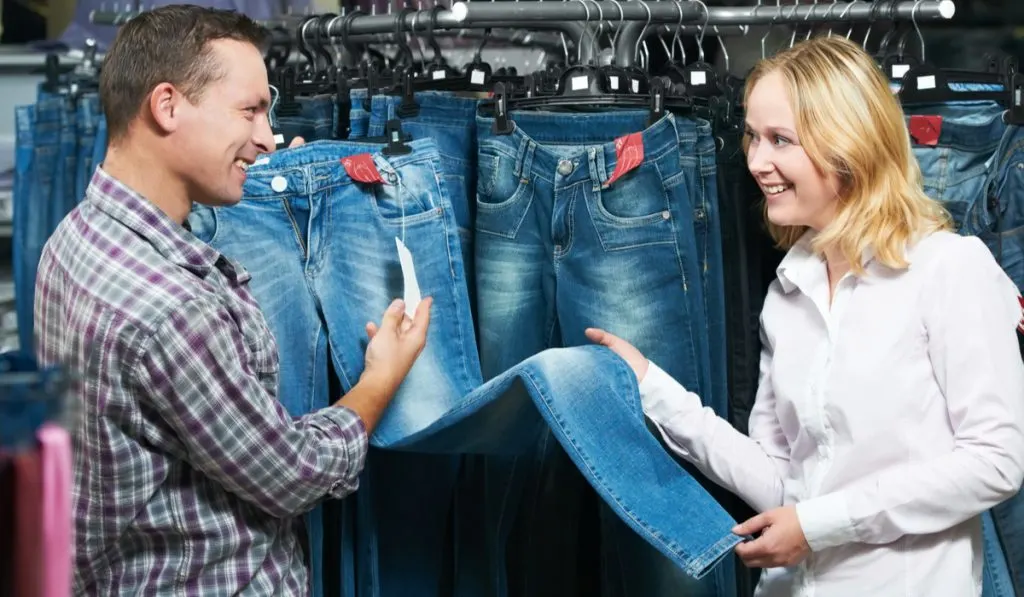 There are plenty of cheap cotton jeans available on the market, but you really should avoid purchasing anything that isn't made from quality materials.
Look for brands like Levi's, Wrangler, Lee, and GAP, who all produce jeans that are designed to last and provide a comfortable fit – regardless of whether they are made from cotton or not.
Make Sure That You Wash Your Cotton Jeans With Fabric Softener
If you want to make sure that your jeans stay looking great for longer while also being super soft and comfortable to wear, then you should add a small amount of fabric softener to your wash cycle.
It won't harm your jeans and will help to ensure that your jeans are comfortable to wear with a bit of stretch in them.
As a side note, if you don't have any fabric softener, then you could alternatively opt to use salt, which creates a similar effect.
Sprinkle Talcum Powder Inside Your Jeans
Talcum powder can be used to create a barrier between the skin and the fabric of your jeans, which means that they'll remain softer even after wearing them for extended periods of time.
Simply sprinkle some talcum powder into the inside of each jean leg, and then proceed to put your jeans on. You should find that your cotton jeans feel a lot more comfortable and soft to wear, while also being a lot easier to put on.
Final Thoughts
Wearing cotton denim is an excellent choice because it provides comfort and style at the same time. However, cotton jeans can sometimes be a little difficult to stretch.
By following these tips, you'll be able to get the most out of your cotton jeans and make them comfortable to wear.
Thank you for reading!