*This post may have affiliate links, which means I may receive commissions if you choose to purchase through links I provide (at no extra cost to you). As an Amazon Associate I earn from qualifying purchases. Please read my disclaimer for additional details..
If you want to live your fantasy of being alive during the roaring twenties (the 1920s, to be more specific), then you may want to attend a speakeasy party.
However, you might find it difficult to select the perfect outfit for such an event. Luckily, with our inspiration, you will look sensational at the speakeasy.
What Is A Speakeasy?
Also known as bling pigs, speakeasies emerged during the 1920s. Speakeasies were bars or clubs where alcohol was served during Prohibition.
During this period, it was against the law to sell alcohol, whether it was wine or beer. They were illegal under federal law, but they existed across the United States.
Because of this, speakeasies needed to be very secretive. Otherwise, their owners would be arrested.
Luckily, the ban on alcohol in the United States concluded in 1933, meaning that these hidden bars and clubs could once again open.
Nowadays, speakeasies are often frequented by celebrities and other high-profile individuals. They are vintage bars that attempt to capture the glory of the Prohibition era.
These establishments became increasingly popular at the start of the twenty-first century. Many people enjoy attending these spectacular speakeasies to try vintage drinks and to wear elegant attire.
What Should I Wear?
If you want to look good at a speakeasy, you'll want to dress appropriately. To make things easier, we have split the dress between men and women.
Of course, you should feel comfortable playing with gender norms and try something a little more daring. Here's what to wear to one of these bars:
Men
White Shirt
If you want to look dapper, a nice white collared shirt is a great place to start.
Though other color shirts look great, such as blue, pink, or black, there is something incredibly sophisticated about a white shirt. Plus, it will go with lots of different suit colors.
Hawaiian Shirt
We do not recommend wearing a Hawaiian shirt to a formal speakeasy. After all, you will look a little underdressed.
However, if you are going for a more casual vibe, a Hawaiian shirt is ideal. It has a relaxed aurora that is great for these venues. Please try to find a smart-looking Hawaiian short that does not have a bold or colorful print.
Otherwise, you may be refused entry into the blind pig. Be sure to check the dress code before committing to this style choice.
Smart Pants
For formal attire, a pair of smart pants will always look amazing. Just ensure that they fit properly. You also need to make sure that they are clean and pressed.
This will help you avoid any unwanted attention from the bouncer. In terms of colors, black, blue, gray, or beige are standard.
Not only will they look smart, but these are the colors that would have been worn in the 20s and 30s. However, you can experiment with a bolder color if you want to catch someone's eye at the speakeasy.
Waistcoat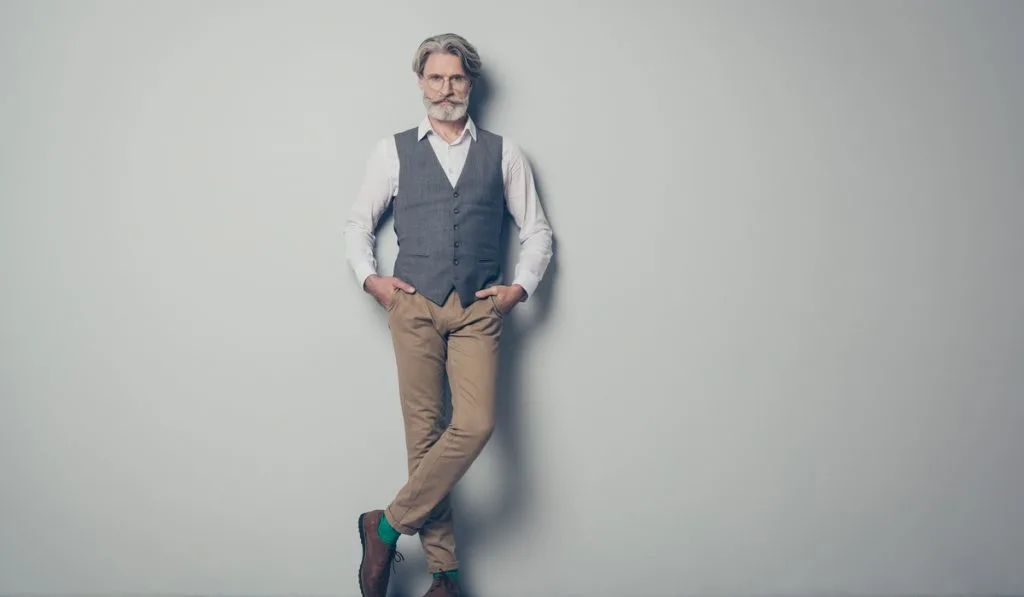 A waistcoat is a great addition to your wardrobe. It is a jacket that sits around your waist. It usually comes with button closure. The style of waistcoat varies greatly depending on the period.
For example, a modern waistcoat looks nothing like an Edwardian waistcoat. If you want to add some extra flair to your outfit, then consider adding a bowtie.
Alternatively, you can opt for a pocket square instead. Be sure to match the color of the waistcoat to the pants. Ideally, you should buy them as a set to ensure that they are complementary.
Waistcoats were quite popular during the 1920s and remain common today in men's formal wear.
Suit Jacket
If you want a formal outfit, a suit jacket will be a perfect choice. These jackets were worn every day during the Prohibition period. Nowadays, people only wear them for formal occasions and some jobs, such as those in business.
Going to a speakeasy is the perfect occasion to dress up. Wear a suit jacket over a white shirt for maximum impact. Ensure that your suit jacket goes with the pants.
They do not always have to be the same color but check that they look stylish when matched.
Accessories
In terms of accessories, there are plenty of options for you. For example, you can wear a tie, bowtie, a pair of suspenders, watch, or a pocket square.
If you aren't wearing a waistcoat, we thoroughly recommend giving suspenders a try. They are period-appropriate and add a sense of jauntiness to your wardrobe.
Women
Cocktail Attire
If you aren't interested in Prohibition fashion, you can instead wear modern cocktail attire. There are many styles available, so it is easy to pick one out that suits you best.
For example, you could go for a long skirt, a fitted top, and heels. A blazer is another option. This will give you a smart aesthetic. As mentioned earlier, check a venue's dress code before selecting an informal outfit.
Flapper Dress
In the 1920s, the flapper was a form of female subculture. They dressed in revealing clothing (for the time at least), like skirts that came down to their ankles.
Their hair was cut very short and often had bangs. They loved to dance and drink cocktails.
Flappers were also known for their makeup. To go out in this era, women were expected to wear longer dresses. As with today, they were expected to look a certain way.
Flappers represented women rebelling against these social expectations.
If you want to rebel against society, you should don the finest flapper dress to the speakeasy.
Flapper dresses tend to be sleeveless and somewhat short, so you may want to bring another layer if you don't want to get too cold.
Maxi Dress
Maxi dresses are the epitome of fashion. They come in many different styles and colors. Moreover, these dresses tend to have gorgeous patterns.
Maxi dresses are ideal for the speakeasy because they tend to be longer, yet flowing enough that you can dance.
If you are concerned about being too chilly in a flapper dress, the maxi dress will be a magnificent option.
Suit
If you don't like wearing dresses, you can instead be inspired by men's fashion of the 1920s. This means wearing a suit, including a tie, smart pants, leather shoes, and a tie.
Fur Coat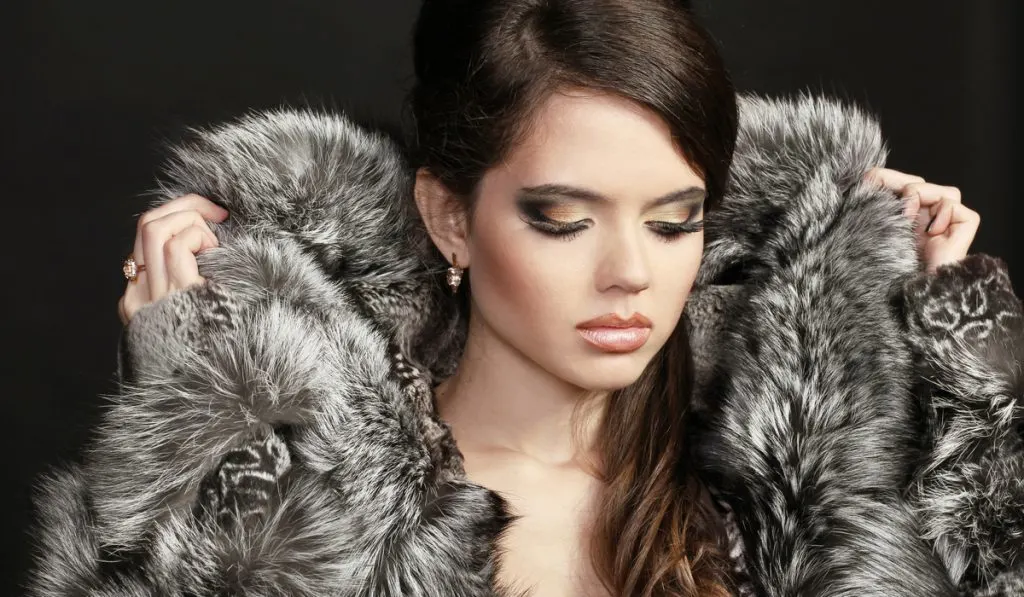 Flappers often wore fur to keep themselves warm. If you are against wearing fur, you can instead buy faux fur. It is often cheaper than real fur.
Plus, you will not have to worry about the ethical implications. You can find fur that has been dyed in a variety of colors, meaning that you can find one that matches your outfit.
Accessories
The last thing to consider is what accessories to wear. In general, you can choose from necklaces, bracelets, rings, watches, earrings, and other items.
You might also want to wear gloves if you want to emulate the flapper fashion.
In terms of shoes, you might want to wear high heels. However, bear in mind that these may limit your mobility when dancing. Thus, you should consider flats if you desire to dance.
Frequently Asked Questions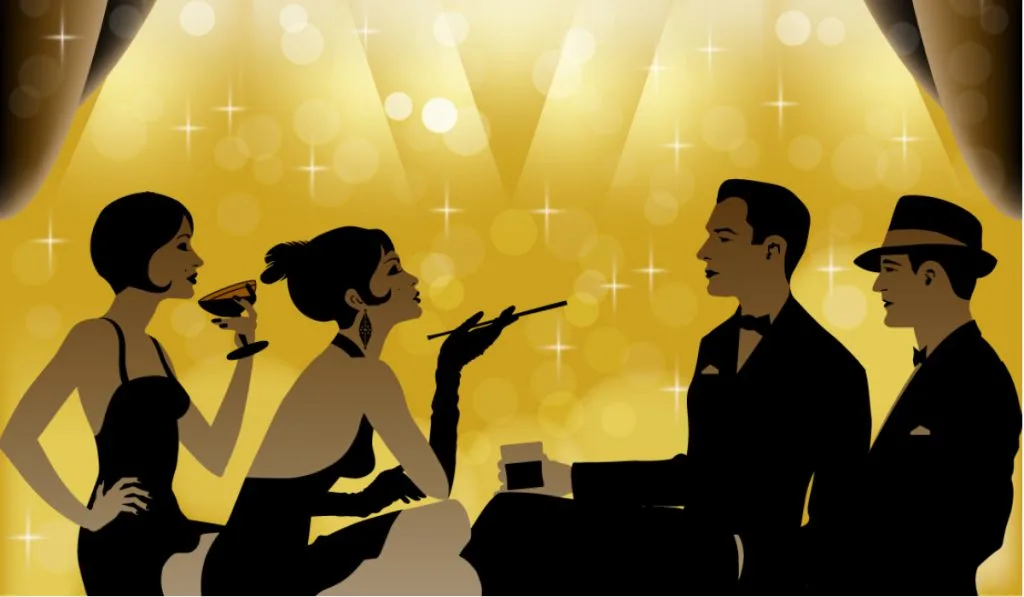 Is it Illegal To Attend A Speakeasy?
While it was illegal to go to a speakeasy during the Prohibition era, it is perfectly legal today. However, if you visit one in the US, you should be 21 years old.
How Much Does It Cost To Enter A Speakeasy?
This depends on the location. Some will have free entry. Others may charge customers. We recommend having a look at a venue's website before visiting it.
Final Thoughts
As you can see, there are many options for what to wear to a speakeasy. The key is finding something that works for you. Keep in mind that some people prefer formal outfits while others enjoy more casual ones.
Regardless, you should feel comfortable in whatever you decide to wear. Be sure to take lots of pictures at the speakeasy so that you can make everyone jealous of your amazing attire.