*This post may have affiliate links, which means I may receive commissions if you choose to purchase through links I provide (at no extra cost to you). As an Amazon Associate I earn from qualifying purchases. Please read my disclaimer for additional details..
How would you describe your style? Would you say you are a classic rock fan or maybe a hipster who loves the 80s? If you answered yes to either question, then you might enjoy throwing an 80s party.
You don't have to have been a teenager in the era to appreciate the music from the 1980s. The decade was filled with iconic songs like Michael Jackson's Thriller, Prince's Purple Rain, and Madonna's Like a Prayer.
There are plenty of ways to celebrate the 80s at home. From decorating your house with retro furniture to listening to old records, you can create a fun atmosphere without spending too much money.
Let's find out just how you would go about throwing the best 80s party ever!
Tips On Throwing An 80s Party
If you want to throw an 80s themed party, here are some ideas:
Decorate Your Home With Retro Furniture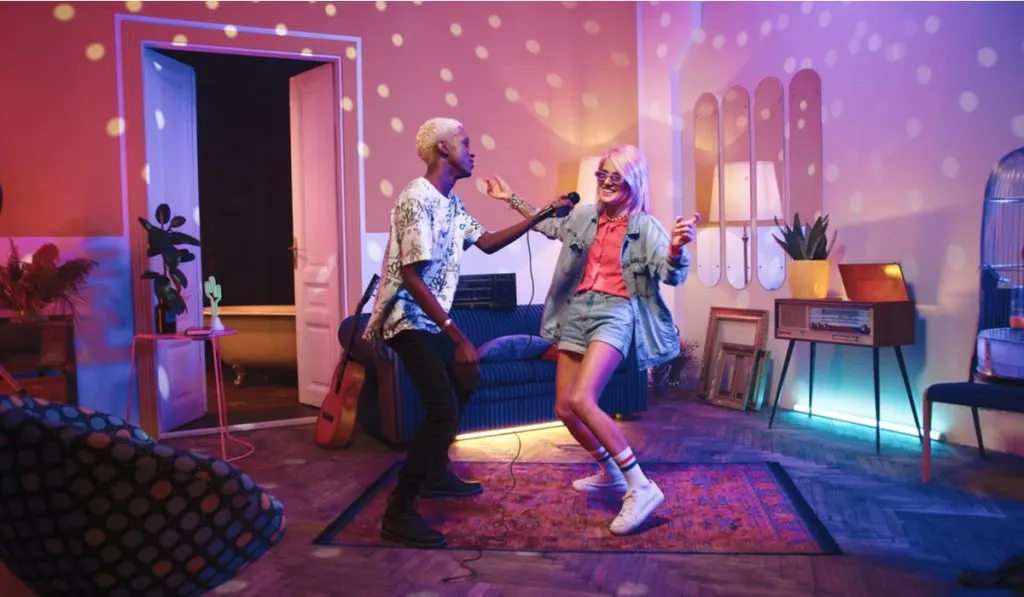 Decorating your home with vintage items is one way to make it feel more like the 1980s. You can find many different pieces that will help you achieve this look.
Add Retro Lamps
For example, if you love the color orange, you could buy a few lamps in that shade to resemble the 1980s lampshade look and hang them throughout your living room.
Consider A Retro Photo Booth
You could even add a retro photo booth to the decor. This will promise to bring nostalgia! You could get creative and make your scene with a neon patterned backdrop, and add some brightly neon-colored accents.
Make sure to equip the booth with lots of photo booth props and fun cutouts, and you could even suggest a photo editing app with a retro filter for when the images are downloaded for your guests to get authentic!
Use Stylized Centerpieces
Finally, you could also use music themes centerpieces. You should take inspiration from the music scene and use 80s greats as a theme for your party tables.
For example, if you want to have a rock 'n roll theme, then use album covers as centerpieces and write the names of bands on them.
Add Artsy Wall Decor
Or, if you want to make a retro-themed party, then spray paint old records and pop them all over your walls. You could paint boomboxes and decorate your home with them or even use cassette tapes as name cards.
Make A List Of Old 80s Records
Another way to recreate the 1980s vibe is by making a list of all the old records you own. This is a great way to get together with friends and reminisce on what made the 1980s so special for you.
It's also a good idea to include any favorite artists or bands from the period.
One of the most important parts of celebrating the 1980s is playing the right type of music. There are several types of music that people associate with the 1980s.
One of the most famous examples is Michael Jackson's hit song Thriller. Another example is Prince's hit single "Purple Rain." Both of these songs helped define the decade and continue to be played in clubs around the world.
Moreover, one of the best things about the 1980s was the rise of classic rock bands such as Journey, Queen, and David Bowie.
These artists were able to combine their talent for writing great songs with powerful vocals. Why not include a few of these rock songs in your playlist to shake things up a bit and experience every great music genre of the era.
Create A "Retro-Style" Menu
Another thing you should do when planning an 80s party is to plan a menu that includes things like burgers and fries. These foods were staples back in the day, but they still taste delicious today.
Food trends come and go, but certain foods always stay popular. One of those is pizza.
During the 1980s, pizzerias began opening all around the country and so serving up a load of pizzas on the side of your party is a great way to reminisce whilst also giving your guests something to fill up on after a night of dancing!
Moreover, don't forget the candy! Stock up on classics like Skittles, Razzles, or Sour Patch Kids. Don't forget lollipops such as Chupa Chups too!
You could use these to decorate and pop them in between centerpieces for people to find as the party goes on. The different flavors can act as a colorful 80s themed rainbow if you place them in a big bowl or a row on the table!
Go Shopping For Vintage Clothing
Vintage clothing has become quite popular over the past few years. People love dressing up in outfits from the 1980s because it makes them feel nostalgic.
If you want to add a little extra flair to your outfit, consider adding accessories such as a hat, sunglasses, or even a jazzy belt.
If you wanted to go the extra mile, you could even dress up as your favorite 80s character. When you think of the 1980s, you probably picture characters from movies like Grease, Fame, and Saturday Night Fever.
But did you know that there were also real-life celebrities who dressed up like their favorite stars too? Why not recreate this trend and dress up as Sandy and Danny from Grease for the ultimate fancy dress 80s party?
Watch Movies That Were Popular In The 1980s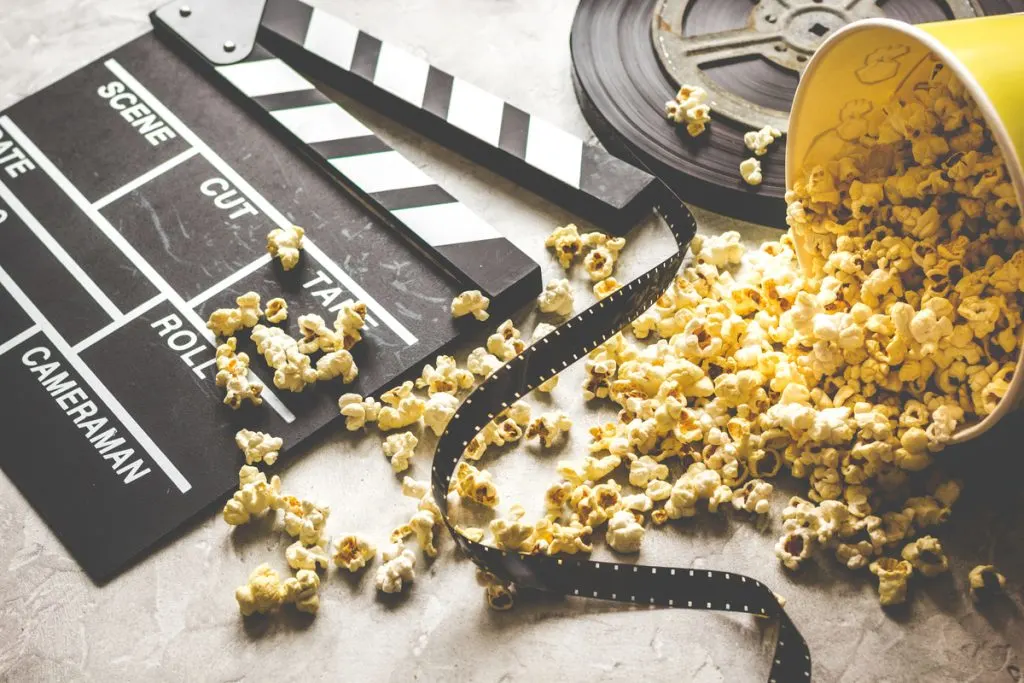 When the night is winding down, or if you are going for a more relaxed party atmosphere, why not pop on some traditional 80s movies?
The 1980s were known for having amazing movies. Some of the most popular films from the era include Back to the Future, Ghostbusters, E.T., and Dirty Dancing.
Another thing that made the era so special was the fact that there were tons of new movies being released every single year. Some of the more memorable ones included Raiders of the Lost Ark, Rambo, and Indiana Jones.
Have A Dance-Off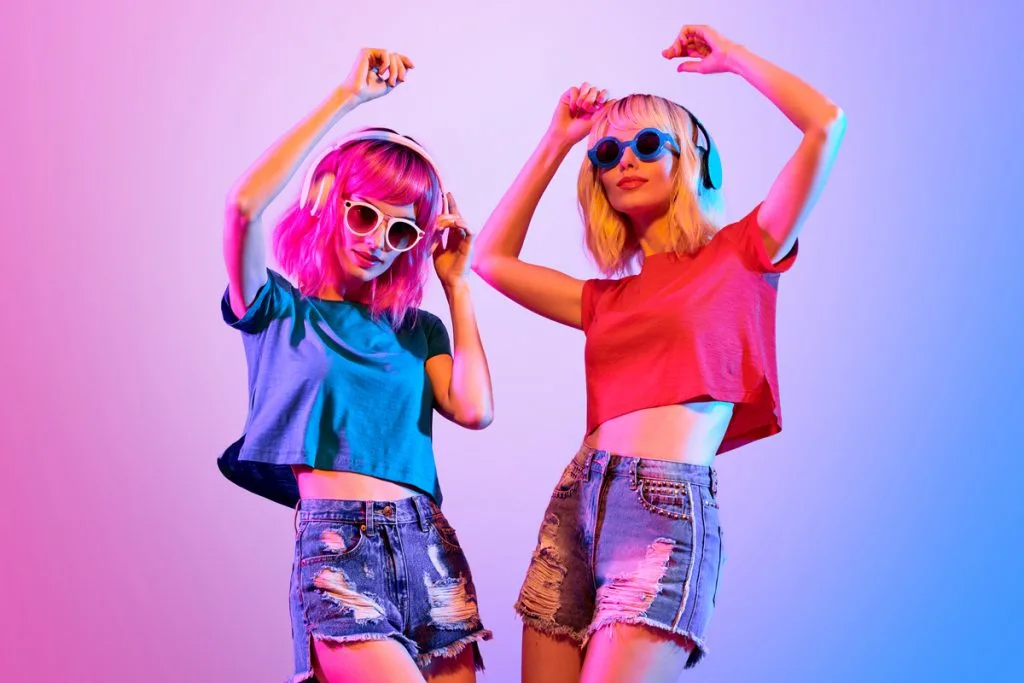 In the 1980s, people loved dancing in public places. This was especially true during concerts and parties. So why not recreate these events by holding a dance-off competition?
Dance competitions in the 80s were very common. They usually involved two teams of dancers competing against each other.
Each team would perform a routine while judges graded the performance based on accuracy, style, and overall quality. You can hold your version of this event at your party and have everyone compete.
Play Games From The Past
One of the greatest parts of the 1980s was video games. Not only were they fun to play, but they were also extremely entertaining for onlookers too.
If you want to make sure that your guests enjoy themselves, you should put together a game room full of classic arcade games.
You don't need to spend a lot of money to get started with this idea. All you need to do is buy a bunch of old Nintendo games (like Super Mario Bros.) and set them up next to one another.
Then, you can encourage your friends to play against each other or even host a tournament!
Celebrate Halloween
Halloween is one of the biggest holidays for kids in the 1980s. It is celebrated on October 31st each year.
During this time, children dress up as their favorite movie or television character and might even go trick or treating.
Since this holiday was so popular in the 80s, if you're looking for a way to spice up the party, ask everyone to attend in their favorite Halloween costumes!
Final Thoughts
We hope after reading this article you have learned everything you need to know about how to throw the best 80s party possible.
From decorations to outfits to the playlist, we have provided a guide on everything you might need to get started! There's no party like an 80s party, so get planning now for your next big blowout!